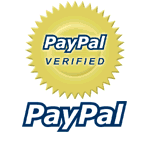 Our express shop does now also accept payments via PayPal.
With the addition of PayPal to the repertoire of possible methods of payment, we are realising a frequently expressed wish of our customers. Already previously our customers could choose between pre-payment via bank transfer and cash as well as a range of creditcards, namely Visa, Mastercard/Eurocard and American Express.
By supporting PayPal, new and interesting possibilities are created, especially for our international customers. Through PayPal, bank transfers and direct debits without high fees (or any at all) are now available in many countries.
You can learn more about PayPal at http://www.paypal.com/.