I've been listening closely to what features you wanted to see most in Remote Buddy's AJAX Remote. You asked for it, now you get it:
Remote file access ("streaming"): your entire media library in your pocket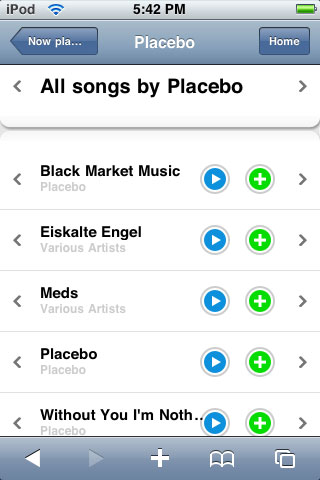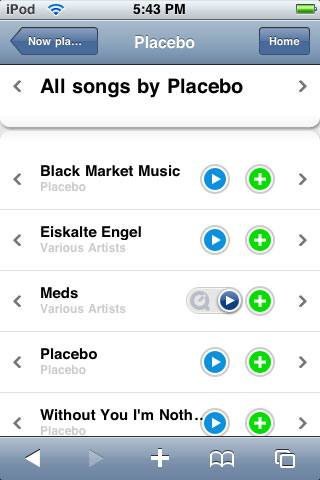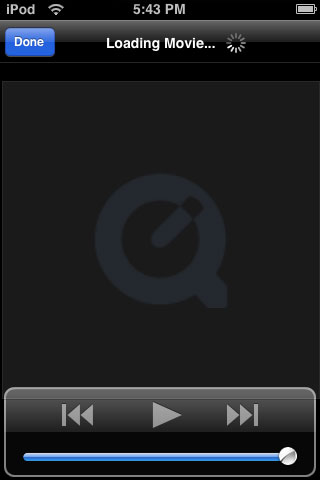 In AJAX Remote > Music > Library. Images from left to right: 1) Tap on the play button next to the playlist, album or track item you want to play back. 2) Tap the now appearing QuickTime button to start playback. 3) The content is played back.
This is HUGE. Using Remote Buddy's AJAX Remote, you can now access all files organized in the iTunes® media library of your Mac® and play them back right inside Safari™ on your iPhone™ or iPod® Touch (given, of course, that the files are in a format supported by these devices). That effectively puts your entire media library in your pocket. Accessing files over the network also means: no syncing, no 4/8/16/32 GB limits. All you need for this to work is the ability to connect to Remote Buddy's AJAX Remote through a sufficiently fast connection such as WiFi.
At this point, it's also interesting to look at what the mobile version of Safari™ is capable of. To my big surprise, I found out that it will not stop playback of audio files when you "close" Safari by pressing the button below the touch screen. That means that you can continue to listen to music while you work in other applications - for example Mobile Mail.
Safari™ also supports playlists of up to 256 entries. But there are still a few rough edges in the mobile version of Safari™: while the skip track buttons are displayed, they only allow you to fast forward and rewind the current track, but don't allow you to jump forward and backward in the currently playing playlist. Also the QuickTime® autoplay feature is not supported, which is why you have to effectively perform two taps before content playback starts.
Selection of multiple AirTunes® speakers and your computer's default audio out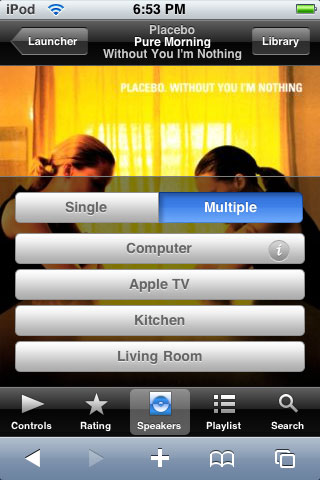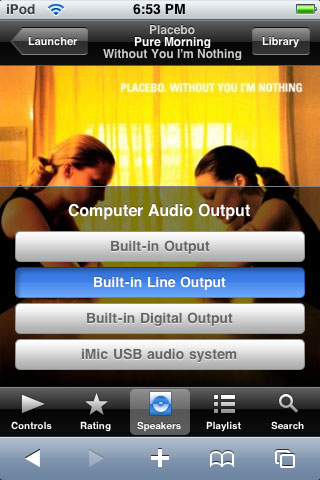 Ever since Remote Buddy has pioneered the remote selection of the AirTunes® speaker that iTunes® should stream to, there was a number one feature request associated with it: support for the selection of more than one speaker.
Starting with Remote Buddy 1.10, you can do just that. Both via your regular remote control as well as through the AJAX Remote.
But there are more changes: in the list of speakers, there's now an (i) on the right side of the "Computer" button. Tap on it and you're presented a list of all audio output devices of your Mac®. Select a device to make it the default audio output device for your system.
The Remote Buddy 1.10 update is available immediately and includes many more new features in other areas.
Enjoy! :-)