Remote Buddy 1.16 - our remote control powerhouse for the Mac® - is available now.
What's New In Version 1.16
Freely map all buttons of the new Apple® Remote - The new Remote Buddy versions adds support for the new, aluminum Apple® Remote and allows the free mapping of all of its buttons under Mac OS® X 10.4 and later. A supported, compatible IR Receiver is required (*).

Add a new Apple® Remote to a Mac® Pro, the new MacBook® and old PowerPC™ Mac® - Apart from built-in Apple® IR receivers, Remote Buddy also supports the new Apple® Remote in combination with many external USB infrared receivers (*).
(*) Please see http://www.iospirit.com/products/remotebuddy/hardware/ for a complete list.
A complete, detailed list of changes is available at http://www.iospirit.com/products/remotebuddy/releasenotes/.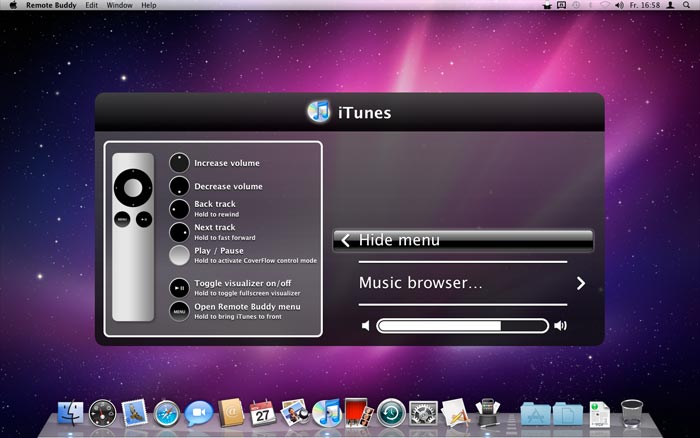 Press Kit
A press kit with high resolution screenshots and logos is available at http://www.iospirit.com/company/presskit/ . Please contact us at http://www.iospirit.com/contact/ with any questions you are having.
About Remote Buddy
Remote Buddy gives its users full control over their Mac® via their remote control. With more than 100 directly supported applications and system functions, real virtual mouse and keyboard, built-in presentation tools, extensive configuration abilities as well as broad hardware support (incl. Apple® Remote, iPhone™, iPod® Touch, Wii™ Remote and many remotes bundled with EyeTV receivers), Remote Buddy is targeting a broad and diverse audience.
Remote Buddy 1.16 requires a Mac® with Mac OS® X 10.4.6 or later. Remote Buddy does not include any of the controlled applications. They have to be purchased and/or installed seperately. A 30 day, fully featured demo version can be downloaded from the Remote Buddy homepage. The full version of Remote Buddy 1.16 is available worldwide for 19.99 Euro. For customers within the EU, the price includes 19% VAT.
More information on Remote Buddy can be found at http://www.iospirit.com/products/remotebuddy/ .
About IOSPIRIT GmbH
IOSPIRIT GmbH has been founded by Felix Schwarz in 2004 and focuses on the development of innovative software for Mac OS® X and iPhone™. IOSPIRIT GmbH is based in Roth, Germany.
Legal notice
IOSPIRIT GmbH and Remote Buddy are neither affiliated with nor endorsed or sponsored by Apple®, Logitech®, Sony® or any other, previously named company. Apple, Mac, MacBook, Mac OS, Macintosh are trademarks of Apple Computer, Inc., registered in the U.S. and other countries. Logitech and Harmony are either a registered trademark or trademark of Logitech in the United States and/or other countries. Sony and PlayStation are a trademark or registered trademark of Sony Corporation. PowerPC™ and the PowerPC logo™ are trademarks of the International Business Machines Corporation. All other products, services, companies and publications are trademarks or registered trademarks of their respective owners.