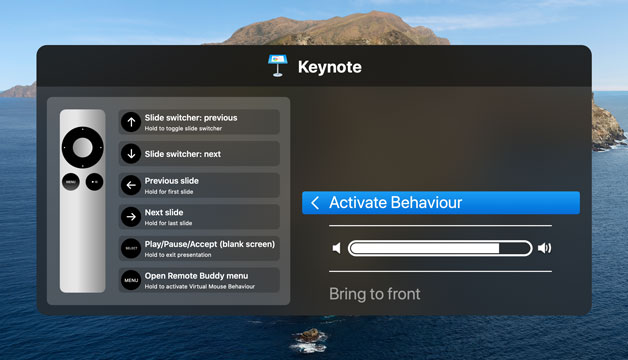 Remote Buddy 2.0 is coming - and a public beta will be available soon! This is a significant update, building on a new foundation that has been in the works for several years.
64-bit, compatible with macOS 10.15 Catalina
Remote Buddy 2.0 is now a 64-bit app and compatible with macOS 10.15 Catalina.
New driver architecture, support for new devices
Device drivers in Remote Buddy 2.0 are built on top of a new, highly modular driver architecture that no longer needs a kernel extension. It's entirely app-based now.
This new foundation made it possible to add support for a lot of new remotes and receivers that Remote Buddy users have been asking for.
Devices that have already been supported in Remote Buddy 1.x benefit of completely rewritten drivers - in many cases adding significant improvements and new features.
Support for Harmony remotes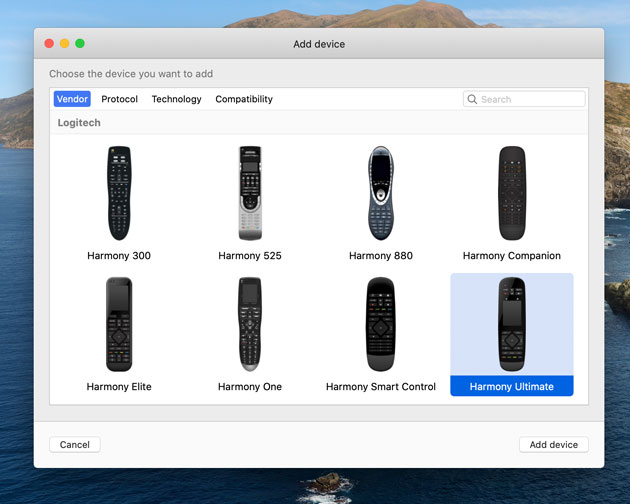 Supported IR receivers can now be used in a new Universal Remote mode. That mode provides support for IR-based Harmony remotes such as the Harmony 300, Harmony 525, Harmony 880 and Harmony One.
To simplify the Harmony remote setup, we've contributed a special Remote Buddy device profile to Logitech's device database that can be selected in the Harmony configuration software.
Remote Buddy 2.0 also provides support for a wider array of Harmony Hub based remotes - now including Harmony Smart Control, Harmony Companion, Harmony Elite and Harmony Ultimate.
Flirc partnership
IOSPIRIT and Flirc have teamed up for a unique collaboration and partnership to bring you exciting new features between our two companies.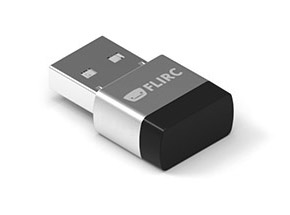 Flirc is an USB IR transceiver like no other: it packs an ARM processor and IR hardware into a beautiful laser-engraved stainless steel enclosure the size of a miniature USB thumb drive.
With Flirc in full control of hardware design and firmware and IOSPIRIT in full control of drivers and software, this collaboration allows the implemention of features that were simply not possible before.
As of version 2.0, Remote Buddy will support the 2nd generation Flirc, making it the first choice for anyone looking for a compatible IR USB receiver: it's beautifully designed, integrated with Remote Buddy, affordable and widely available.
Built-in diagnostics

Remote Buddy's new driver architecture comes with live diagnostics built-in, making it a lot easier to identify and resolve issues - often with a single click.
Remote Buddy Mobile 2.0
Remote Buddy Mobile will be updated to support new features in iOS 13 and Remote Buddy 2.0. Premium Features such as Screen Sharing and Night Mode that were previously only available through in-app purchases will be free for Remote Buddy 2.0 users.
Pricing
Remote Buddy 2.0 will be a free update for all Remote Buddy 1.x licenses purchased in 2018 and 2019.
For licenses purchased before 2018, the new version will be a paid upgrade.
Pricing has not yet been determined and will be announced at a later date.
Requirements
Remote Buddy 2.0 requires at least macOS Sierra (10.12). If you'd like to use Remote Buddy 2.0 on an earlier macOS release, please let me know.
Availability
A public beta of Remote Buddy 2.0 will be available shortly - likely in a matter of days weeks. If you rely on Remote Buddy, please wait for at least the public beta before updating to macOS Catalina.
If you'd like to be notified when the public beta and final release become available, please sign up for the IOSPIRIT newsletter:
Receive news, updates and offers regarding our products. Unsubscribe at any time. Please see our privacy policy for more information.