IOSPIRIT is proud to announce the immediate availability of its latest creation: Spacious 1.0.
What is Spacious?
Spacious allows switching between OS X Lion spaces and fullscreen apps with every mouse. Via the Spacious Navigator that's shown when the mouse cursor is moved to the display borders. Or directly with many mice wheel.
Watch the demo video at the Spacious website to see it in action.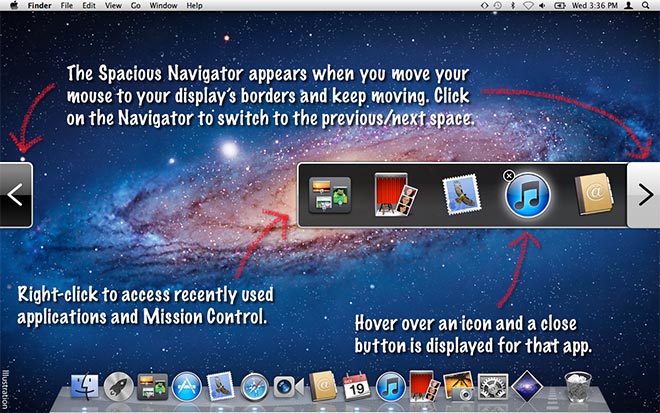 Why Spacious?
Imagine you're using an ordinary mouse with OS X Lion and you want to switch between spaces. You'll need to move your hand over to the keyboard, locate and press the right key combination - and move back to your mouse. If you need to switch often, chances are you'll soon find this highly annoying and a constant source of interruption in your workflow.
Spacious offers smart solutions to this and other space-related challenges.
Key Features
Switch to neighbouring spaces
The Spacious Navigator appears when you move your mouse to your display's borders and keep moving. Click on the Navigator to switch to the next or previous space.

Quick app switching and quitting
Right-click on the Spacious Navigator to access recently used applications and Mission Control. Hover over an app's icon and a close button appears, allowing you to quit that app.

Mouse wheel switching
If your mouse wheel can scroll left and right (often possible by tilting it), you can turn on an option in Spacious and henceforth use it to switch to the next and previous space instead.
See Spacious in Action
See Spacious and its most important features in action in the "Introducing Spacious" video at the Spacious Website (http://www.iospirit.com/spacious/).
Pricing, Availability and System Requirements
Spacious 1.0 is available at the Mac App Store at an introductory price of 5.99 US$ *. Spacious requires a Mac running Mac OS X Lion 10.7 or later.
About IOSPIRIT
IOSPIRIT was founded by Felix Schwarz in 2004 and is based in Roth (Bavaria, Germany). It focuses on the development of innovative software for Mac OS X and iOS.
IOSPIRIT is best known for Remote Buddy, the most powerful remote control solution for the Mac. An Express version of Remote Buddy is also available at the Mac App Store.
* Price quoted in US$ excludes sales tax or VAT as applies. Check the Mac App Store for quotes in local currencies. We reserve the right to set a different price (both higher and lower) at any time without advance notice.
Address: IOSPIRIT GmbH, Am Feldacker 4, 91154 Roth, Germany. Phone: +49 9171 827831. Fax: +49 9171 827832. Email: info@iospirit.com. Website: http://www.iospirit.com/. Trade register number and place of registration: HRB 21960, Amtsgericht Nürnberg. CEO: Felix Schwarz.
IOSPIRIT GmbH and Spacious are neither affiliated with nor endorsed or sponsored by Apple or any other, previously named company. Apple, OS X, Mac, Mac OS, Spaces are trademarks of Apple Inc., registered in the U.S. and other countries. Mission Control and App Store are trademarks of Apple Inc. All trademarks belong to their respective owners. All information is subject to change without notice. Please also visit http://www.iospirit.com/legal/ for information.