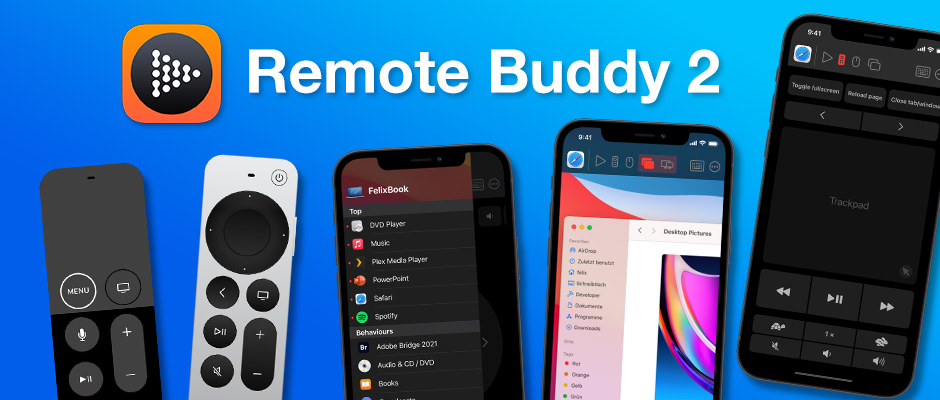 Remote Buddy 2, the versatile remote control app for the Mac, is out. And so are the companion apps: Remote Buddy Mobile 2 for iOS and Remote Buddy Display 2 for tvOS.
What's new
These releases are packed with new features and improvements. So many, in fact, that they needed their own page this time.
The Highlights
There is a lot of good stuff in the full list, but these clearly are the highlights:
Siri Remote support
Remote Buddy 2 adds support for the 1st and 2nd generation Siri Remote, making it usable as/for:
trackpad - incl. scrolling and Mousespot spotlight effect
remote - to control 100+ supported apps
keyboard - using Remote Buddy's virtual keyboard
menu access - and through Remote Buddy's menu, control and access many aspects of the Mac
The 2nd generation Siri Remote is a great fit for Remote Buddy - and absolutely awesome for home theater and presenter usage.
If you are currently in the market for a presenter remote, do the math: the combination of Remote Buddy and Siri Remote not only beats dedicated presenter remotes on possibilities, but - often - also on price!
Check out the video above to see it in action and, for more information, the dedicated pages on available gestures and capabilities & system requirements.
Remote Buddy Mobile 2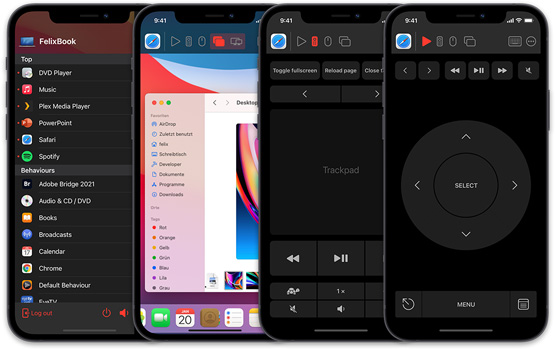 Remote Buddy Mobile 2 is a major update of the companion app for iOS and iPadOS, most notably with:
new Smart Remote mode: fusing remote, trackpad & actions into app-specific remotes
new Shortcut Bar: packs up to 25 actions for quick access in Remote, Smart Remote and Trackpad mode.
Mousespot support: turn Mousespot on and off directly from the app
visual refresh: refreshed look & iOS dark mode support
Secure Connection: strong TLS encryption & certificate-based security
This major release also drops all in-app purchases, so everyone with a Remote Buddy 2 license can now use the full Mobile companion app at no additional cost.
Remote Buddy Display 2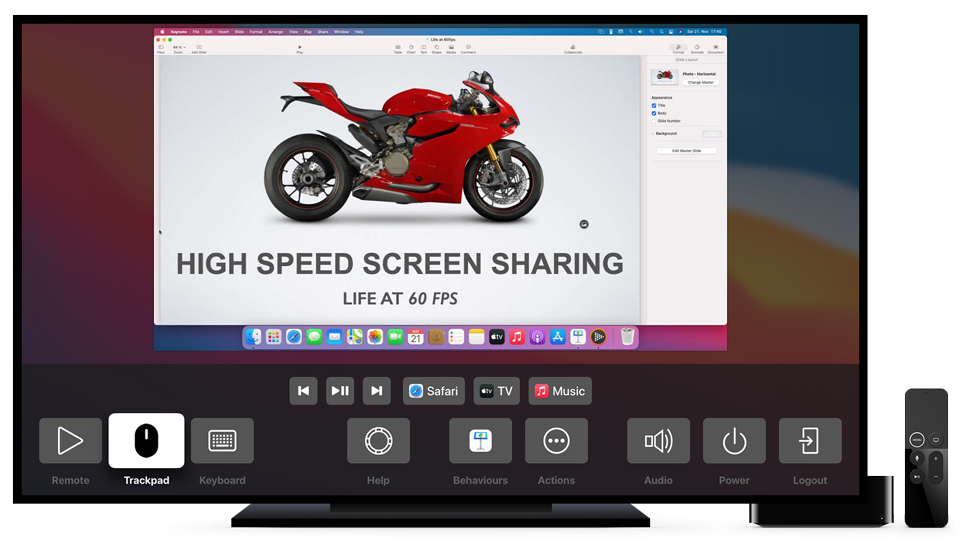 Remote Buddy Display 2, the companion app that lets you control your Mac through an Apple TV, also brings major improvements:
new Shortcut Bar: packs up to 25 actions for quick access in Remote, Smart Remote and Trackpad mode.
Screen Sharing – 2nd generation: higher image quality, Retina support and higher power efficiency are the highlights of the 2nd generation of our high performance screen sharing implementation
theme & dark mode support: the app now provides light and dark themes - and can integrate with tvOS dark mode
Secure Connection: strong TLS encryption & certificate-based security
Web Video Control

A major feature for anyone watching web videos in Safari or Chrome! It gives you one set of actions for almost all videos on the web:
Play / Pause
Jump 10 seconds forward or backward (long press to fast-forward/rewind)
Playback speed +/-: adjustable in 0.1x steps
Volume +/-: adjustable in 5% steps
Mute
This new feature does not target specific sites, but is designed to work universally with almost all videos on the web! That means nothing less than that you can now control f.ex. playback speed on many sites that don't offer that option themselves (like f.ex. Netflix, Prime Video or tv.apple.com)!
If a page contains more than one video, a sophisticated algorithm is used to determine which video you are most likely to want to control at a time.
You can map these actions to buttons on a remote, or use them from the Mobile app, whose new Smart Remote mode layouts a nice user interface for you, combining a trackpad with video control actions when using Safari or Chrome.
Flirc support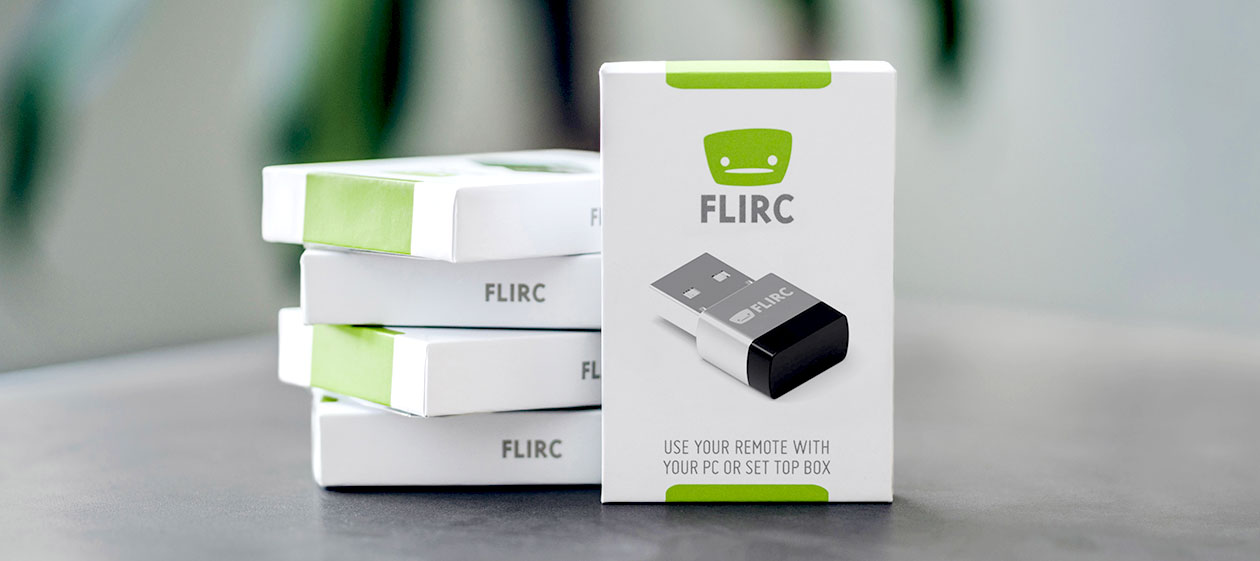 We joined forces with the Flirc team to achieve firmware-level integration in Remote Buddy 2, delivering some awesome new features together:
support for Apple Remote pairing (and wakeup!)
recording & sending IR commands through Flirc USB
faster responses than Apple's IR receiver thanks to integration of firmware and driver
Flirc USB is a great option if you want to use an Apple Remote with your new Mac - or if you want to send IR commands to other devices.
Send Infrared (IR) commands
Remote Buddy 2 can also send IR commands – to f.ex. turn the TV on & off. It works by:
recording the IR command (from the original remote) into a new action
sending the IR command when that action is run
A supported transceiver like Flirc USB is required. Step by step tutorial here.
Extended app support
We've added support for over 30 new apps to Remote Buddy 2, including Adobe Bridge, Audio Hijack 3, Audirvana, Capture One 21, DaVinci Resolve, Deckset, djay Pro AI, Roon and Plex HTPC.
A list of most of the supported apps is available.
Support for many Logitech Harmony, Amazon, Satechi and other remotes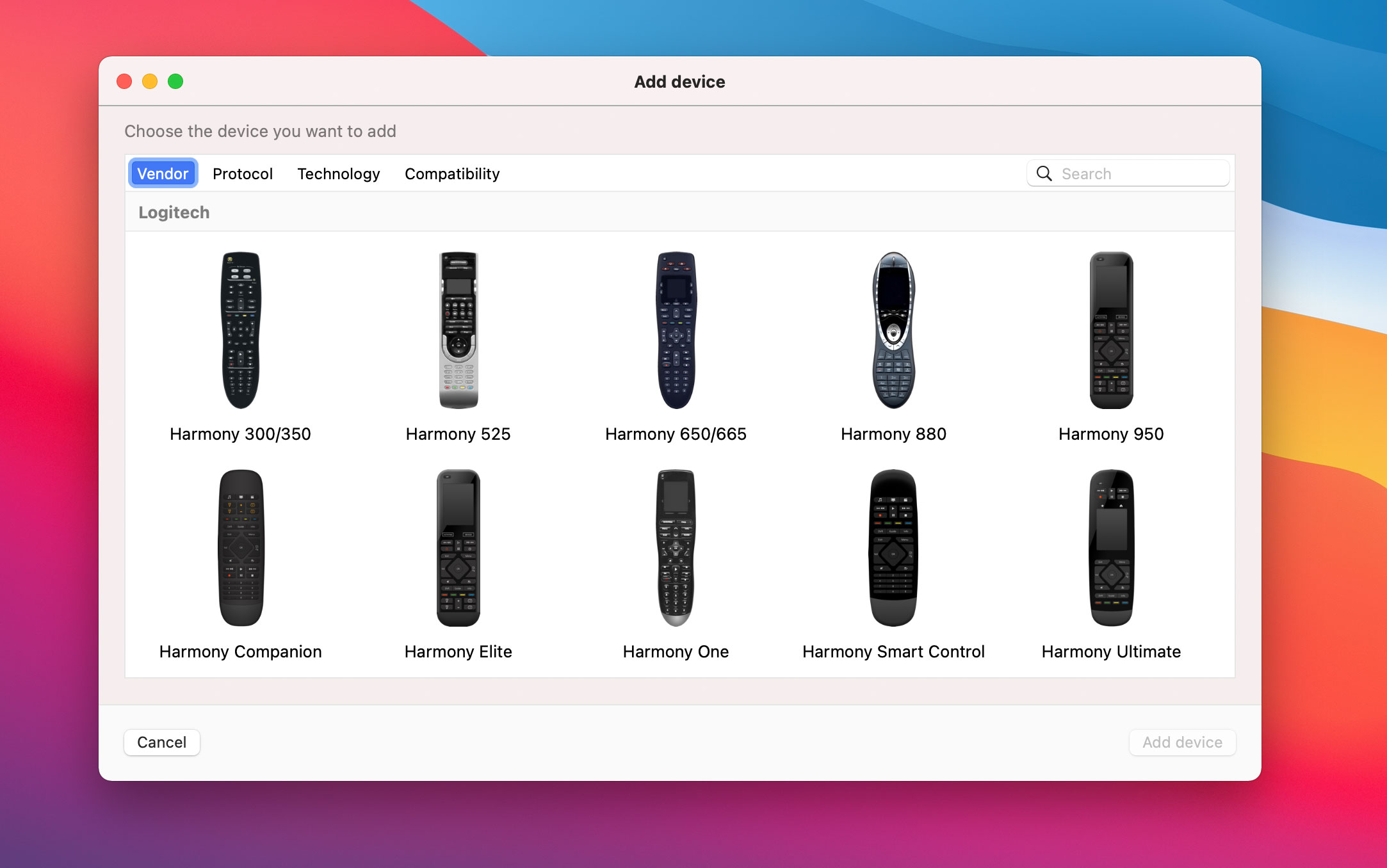 Remote Buddy 2 ships with completely new drivers, now based on our new RCKit technology stack. A kernel extension is no longer included or required.
Most Logitech Harmony remotes (both IR and Harmony Hub based) are now supported by Remote Buddy 2. Remotes from Amazon, Satechi, Microsoft are supported now, too. Check out the completely redesigned hardware page to find out which ones.
Pricing & Upgrades
A new license for Remote Buddy 2.0 costs 24.99 € / US$, including one year of free updates. The license does not expire and customers can continue to use the last included update. An additional year of updates can then be purchased for 14.99 € / US$.
Remote Buddy 2.0 is a free upgrade for anyone with a license purchased in 2018 or later. Discounted upgrades are available for older licenses. Please see the upgrade page for all details.
Press Kit
A Press Kit for Remote Buddy 2 is available here.
Help us get the word out
One of the toughest and costliest tasks for indies like us these days is getting our products in front of its audience. If you can help with that - by telling your friends and communities about Remote Buddy - we really appreciate that.
Thanks, it really helps! ❤️
---
* Where applicable, prices include VAT.
---
History
May 27, 2021: originally posted.
May 31, 2021: added Highlights section, reposting article.